Trail Rides:
Banshee Ranch offers guided trail rides to guests.  Depending on the riding level of the group is the type of trail chosen.  There are water crossings and small jumps available for the more adventurous trail groups as well as calm shady trails available for the novice groups.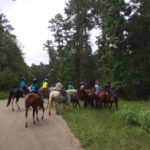 All trail rides begin in the arena letting the riders get a feel for their horse. These horses do not simply follow in a line, they require interaction from the riders. Once your instructor feels satisfied everyone has control of their animal, the instructor will lead your party onto the trail ride.
Trail Rides $40 per rider per hour. Email Banshee1984@hotmail.com to set an appointment.