The lesson horses at Banshee Ranch are chosen for their forgiving nature.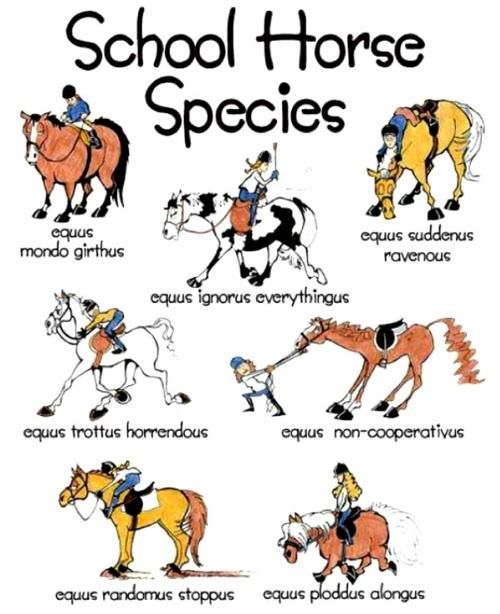 Each has different talents and can accommodate a variety of riders. Even though these horses are gentle and patient, it is important to remember they are animals and to develop good horsemanship habits. Horses are not predators. It is not in their nature to attack. However it is natural and instinctive for them to avoid or defend themselves against anything threatening. This reaction is how most humans are hurt by horses. Horses also learn behaviors to avoid anything they regard as a negative experience, such as being caught, which may cause harm to an unwary rider.
Lessons are offered for all ages & experience level with an emphasis on horsemanship.
Dolly

Dolly is a palomino quarter horse. She loves to do trail rides! She has been a lesson horse for 4 years and is a favorite of the girls. Her name was Yellow till Sue renamed her first Hollywood and then Dolly, which finally stuck. Dolly has a very defined trot and is easy to learn posting on. She is also 3rd string on our drill team! She is also quite good at soccer.
Little Man
 Little Man's sweet, gentle personality makes him a favorite of the younger riders. He is very patient but also a master of
getting out of work.  Little Man's favorite thing is trail riding! He has the smoothest trot of all horses.  He was an orphan and was raised on a bottle. Actually a pan, since he refused to drink from a bottle. He use to be very lonely since he was an orphan but now he's Lucky's best friend!  His name comes from the movie "Little Big Man" with Dustin Hoffman. He was born at Banshee Ranch!
Lady Paint
Paint is a good all around horse who loves carrots! She is Dandee's filly (baby female horse) and was born at Banshee Ranch. She is a dark bay paint horse. Some would refer to her as a "quarter paint" because she has mostly quarter horse family in her background. Paint is great for beginner riders as well as advanced. She has the training to ride "bareback bridleless" as well as jumping. On her quarter horse side she is an appendix quarter horse which means she has alot of Thoroughbred in her background. 
This is why she is so tall! She is also on the "Rhythm & Reins" drill team. When you put the bridle on she always yawns making it easy to get the bit in her mouth!  If you don't have a carrot she also likes peppermints!
Bear

Bear has a fierce name and a true competitor, but a teddy bear at heart. He is another rescue who was 250 pounds overweight and still struggles with weight. His breeding is a bit of a mystery. He seems to be an older horse in his mid 's. During the winter he gets very fluffy, which is how he got his name "Bear".
He has a very bouncy trot.  Bear loves to run! He gets excited every time he gets to run the barrel pattern! He is a midlevel speed event horse that can do most game day events. He also does midlevel jumping and is a lead horse on our trail rides. Bear is also lead horse on our drill team!
20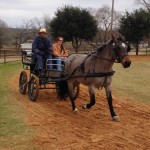 Angel is a Roan Belgian cross. She was also born at Banshee Ranch around 2008. She was specially bred to be an all-around horse. She is Della's personal horse but is used in ground lessons occasionally for students. Angel does a little of everything from helping in other horses training to working cows, to being an "alley horse".  An alley horse helps a nervous horse or rider enter the arena at a show as it is safer for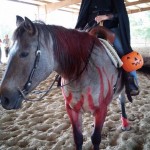 the trainer to assist from the back of a horse than on foot. Angel is very good at this because her relaxed personality helps calm other horses. She is also not afraid of other horses bumping into her accidentally. She is the only horse Della has ever given a name that isn't a description like "Paint", "Yellow" or "Brown horse". She has been to training for driving. She pulls a small cart around the ranch and in parades.  All of these things are what make her a perfect all around horse for the varied needs a trainer requires in a special mount.
Snow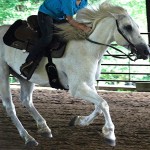 Snow Bell is a Belgian cross much like Angel.  We actually have to order her special boots because her hooves are much larger that the other horses.  She is not registered but when the vet looks at her teeth he guesses her to be born around 2005.  Can you believe we can tell that be looking at the teeth? Unlike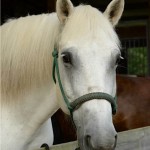 humans horses teeth continue to grow which is where the phrase "long in the tooth" comes from. Angel and Snow have been to driving school together where they learned to pull wagons together. She is a mid level lesson horse that loves to trot! Snow has a unicorn horn and is dressed as a unicorn for birthdays and parties.
Leroy
Leroy looks very old because he is a "Roan" like Angel but he is actually one of the youngest horses on the rooster. He is very sweet and is best friends with Tru. He is a great trail horse as he not afraid of much. He is the tallest horse in the Banshee herd and has to have large sports boots due to his size. He has a nice steady trot with an easy rhythm to post.  Leroy is often called the "husband horse" of the ranch due to the fact many of the dad's prefer him when they come for trail rides.
Tru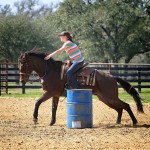 Tru or Troubadour is a registered Quarter Horse.  A troubadour was a composer and performer of lyrical or musical poetry during the High Middle Ages.  Tru is a gentleman and Della often refers to riding him as dancing since he is very responsive. Since coming to Banshee he has become quite good at barrel racing and is starting to go to races with some of the more advanced students. He is one of the taller horses in the Banshee herd.  He is fun to train with but sometimes he tries to outsmart his rider so you have to change up his routine to keep him guessing.
Steve
Steve is a spunky fun little horse with a want to please his rider. He is very light and responsive so he is reserved for mid level to advanced riders. He is well patterned on the barrels and poles. He often goes with the Rodeo team to local events and is a favorite.  His flashy color is always a hit and we haven't found a color combo that doesn't look stellar in him yet!  He rides several different spots on the drill team and is very versatile between riders.  Steve is a grade gelding meaning he is not registered.
Bo Duke
Bo is an all around horse meaning he can do a little bit of everything, he even rides lead on the drill team. He has a nice steady trot that is easy to post to. He transitions easily into his lope and is pretty good about correcting his own lead. He has been lightly patterned on barrels and is starting to work on poles and other speed events. While he is an incredibly talented horse many other people passed him by because he has Sarcoid Tissue in two locations. His case is benign and is not spreading but it does affect his looks. His bridle specifically doesn't have a throat latch as to not irritate the area.  His more advanced students have been involved in the caring/treating of his condition.
Blaze
Blaze was born at Banshee Ranch and is related to Angel. He