Lessons:
If you are at this page wondering about Christmas or Birthday presents please look under our Christmas Party  page under Other Events. I have a comprehensible list of gift for the equine lover in your life! We also offer lesson packages and trail rides in gift certificate form for any of your gift giving needs.
Trail Rides and Lesson times are available 7 days a week. We have several Senior and Jr Trainers on staff to accommodate your schedule. Please email Banshee1984@hotmail.com to get in contact with one of our staff. Include a phone number as we usually like to call and make sure we will be a good fit for your family. We are in this industry because we love it, not because we have to be, so we want to make sure everyone coming into our barn family is going to be coming into an environment they will enjoy. If you're not enjoying your hobby why even bother?
Read more about our lessons below:
At Banshee we believe that it is important to create good horse-people, not just good riders. We want our students to learn good horsemanship, which includes leading, grooming,
tacking, bathing and handling as well as just enjoying time in the saddle. The relationship between rider & horse is built on the ground as well as when on the horses back. Horseback riding is the only sport where an athlete is partnered with an animal and asked to perform. So we must keep in mind that horses are naturally flight animals. Because of this when working around horses we need to be calm, yet assertive to keep from making the horse fearful of a situation. This is where the fundamentals of good horsemanship is important.
Respect, responsibility, and understanding of the horse is paramount.  In the Our Horses tab we introduce you to our wonderful lesson horses that range from the gentlest souls, to the more advanced competitive horses.  Lesson horses are chosen by the instructors based on their temperament and abilities. Each horse is adaptable to different riders.
Banshee Ranch offers Western lessons at all levels.  We strive to use positive re-enforcement to encourage our student's love of every discipline. While you are learning all the essentials of horsemanship you will also learn about discipline, respect, safety and the rich history surrounding horses. Learning will be paced to match each student's ability. All students must sign release forms before starting lessons.
Western riding offers students a chance to learn basic skills and balance that prepares them for further activities such as trail riding, speed events and showing.
An instructor is available 7 days a week, mornings & evening lessons are available.  To see which days a specific instructor is available please email us.
Lessons Policy:
1. Students are responsible for providing their own helmets.
2. Students must wear a form of boot with a heel.
3. You MUST give 24 hours notice of cancellation for a lesson. You may reschedule within the month.
If 24 hours notice is not given, you will be charged for the lesson.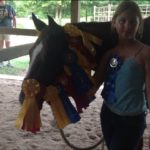 4. Our policy is to hold lessons rain or shine, the facility has a covered arena.
Instructors:
(Please click the links below for more information on available trainers)
General Lessons – Barrel Racing – Ground Training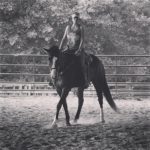 Dressage – Western Dressage – Barrel Racing – Ground Training
Summer Camp:  CLICK HERE FOR MORE INFO ON SIGNING UP
Summer camp is for kids ages 5 to 18. The camp provides basic horsemanship skills, nature studies, crafts,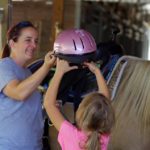 swimming (with signed waiver), games, hiking, music, etc. This is a time for all the kids to come together and make new friends in the barn.
Advanced Camp  (must have prior approval via lesson program)
Novice Camp  (Open to all riders)
Intermediate Camp  (Open to all riders)